Connecting Social Justice to our Economic Future
PART III: Being Latino and Working in Education Today
Interview By: R.D. Leyva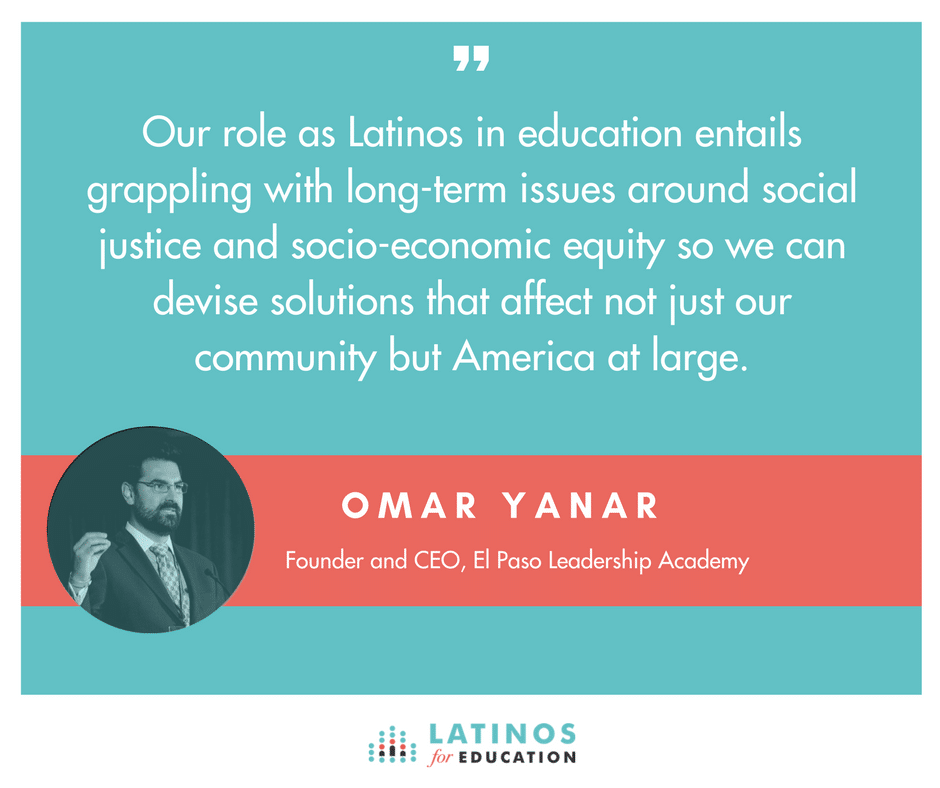 What is good for Latino children is good for all children in America. As the fastest growing population in the United States, Latino educational and economic achievement represents our country's best hope for long-term success. Increased Latino leadership in the educational landscape will improve outcomes for all children, Latinos and otherwise.
This issue is important to Latinos for Education member, Omar Yanar, Founder and CEO of the El Paso Leadership Academy, a college preparatory public charter school in its fourth year. A former teacher, Omar earned a Master's in Public Policy from Harvard's Kennedy School of Government, and believes combining his educational experience with his public policy expertise can help effect change in his community of El Paso, Texas.
In this, the third of five installments of our Hispanic Heritage Month Interview Series, we asked Omar to share his views as a Latino education leader.
What does it mean to be Latino and working in education in 2017?
OMAR YANAR: As a Latino community, we are charged to not only provide a better tomorrow for our younger generation — but to systemically move the social justice needle towards a more equitable playing field for all children. To do this, we need to connect social justice issues with the hardline economic implications that ensue if we fail to educate our community.  Latinos are the fastest growing population in the United States and the majority fall within the low-income spectrum. In my home state of Texas, we will go from being one of the most affluent states to one of the poorest if we cannot increase Latino's educational attainment and access to well-paying jobs. Without a financially independent Latino population, we will see negative ramifications across the country. Our role as Latinos in education entails grappling with long-term issues around social justice and socio-economic equity so we can devise solutions that affect not just our community but America at large.
"Our role as Latinos in education entails grappling with long-term issues around social justice and socio-economic equity so we can devise solutions that affect not just our community but America at large."


How does your Latino identity shape the way you think about solutions that impact Latino students and families? 
OMAR YANAR: I lead from my values through a multi-generational and asset-based approach to our decolonized past. For example, I believe in leading from a "collectivo" ideology where grassroots techniques are utilized to empower others, not just with skill sets to become entrepreneurs but also to understand the imperative of contributing back to the Latino community. It's shaping paradigms of our culture into assets and empowering students to turn our experiences into a valuable commodity that will bring cultural, social and economic value to their friends, family, colleagues, and culture of the United States.
Given your perspective about the long-term issues affecting the Latino community, what does it take for Latinos to compete and thrive in today's economy?
OMAR YANAR: We have responsibilities well beyond the platforms of breaking statistical trends and ensuring more Latinos are college and career ready. It goes beyond ensuring Latinos can become productive members of a 21st-century workforce. I believe it goes beyond the immense responsibility of tackling race discussions in our classrooms and sparking these discussions among our White peers. For the Latino community to compete and thrive, we must be at the table affecting policy, business and social practices at a national scale. I believe our collective responsibility comes from uniting our community and empowering our students to break through barriers for achieving national leadership status – across all sectors and industries.
What is one call to action you would share with Latino education leaders?
OMAR YANAR: We need to start dreaming big instead of taking small calculated steps and work with our youth to actually bring it to fruition. Don't simply work harder to get more kids into college, let's systemically shift their paradigms and prepare them to lead by creating more equitable communities for them to thrive in.

We encourage you to share this story by using the hashtag #HispanicHeritageMonth. To view the previous two profiles in our Hispanic Heritage Month series, click here for the Part I interview with Dr. Nancy Gutierrez and click here for the Part II interview with Antonio Plascencia, Jr.
R.D. serves as the Program Director at L4E. He leads the talent work to connect L4E members to high-impact roles, professional development opportunities and other Latino leaders across the country. He lives in Washington, DC.